What is the purpose of a podcast?
Our community is made up of many families across a vast geographical area. We felt that recording conversations with people who share faith and kingdom values would serve to encourage faith in the church. So that is what we've done.
These are 15-minute episodes with various guests who have a faith story to share. We pray that the stories of Faith inspire people to seek Jesus and recognise His work in each one of our lives. We are not looking for the guru to speak, teach or give you the 'right teaching', but the ordinary to show the power of God at work.  
I trust the Holy Spirit uses these conversations in a small way to lead you to the cross of love.
Click on a podcast title and you'll be redirected to the SoundCloud platform.
Suggested Articles
The following articles are simple a collection of writings which have encouraged and challenged our community along the way.  
Dive in under the hood and you may find something which gives you the next piece of your puzzle to live your life for Jesus.
What is a Kingdom shaped Church?
Our Gospel mandate is nothing less than the present (and increasing) Kingdom of God manifest on earth. Too often we've settled for false finish-lines captured most notably in phrases like, "The gospel of salvation" or "The gospel of the church". As incredible as the miracle of salvation and God's design for the ecclesia is, when we make either of these the goal we miss the bigger picture. … [Read More]
Practices of We Are Church
Devotion to Scripture: More than anything we want people to be lovers of the person of Jesus.  Far too often we are lovers of sermons, lovers of ministry, lovers of good books, lovers of community. But are we primarily in love with God Himself?… [Read More]
What does it mean to be missional?
We are God's missional people. Jesus said emphatically, "As the Father has sent Me, I also send you" (John 20:21). Whether this means we cross the seas or cross the street, God's mission in the world ought to be our defining reference point for life and community…. [Read More]
What is a simple church?
To be honest, the first time I heard the term simple church I recoiled from it as though one were suggesting we turn God's idea of His ecclesia into something more "simplistic" to satisfy our own ends. However, this is not the intent at all…. [Read More]
Thought Provoking Videos
Here are a few clips which give you an idea of the flavour of simple/organic church. We share these videos to inspire you to consider your own church community and to ask questions and create discussion around who we are as God's people. None of these clips completely and accurately describe who we are and how our community functions but they come from a similar neighbourhood … so to speak!  Every blessing as you ask Jesus what this means for you and the people you are joined with in church and mission.
We are Church
This short documentary presents the perspective of organic, simple and relational church.  I think this could be a useful 20minute conversation and prayer starter at one of your house church gatherings…
American Gospel
What is the Gospel and how do we live it?  This is a great exploration of the essence of our faith in Jesus and His work in us and amongst us.  The 1 hour version of the documentary can be downloaded at https://www.youtube.com/watch?v=ocHm18wUAGU
The full version can be rented at http://www.americangospelfilm.com (2hrs 20) and if anyone would like to host a gathering to watch and discuss let us know the details!
American Gospel – Trailer 1 from Transition Studios on Vimeo.
Little Pilgrims Progress-The movie
This movie has just been released and is a great way to capture the essence of John Bunyans book of the same name.  
Watch it as a family and have a conversation around it's content. (8+ is recommended)
Unchurching-the exodus from institutional church-Richard Jacobson
Real Community-being a Christian is weird
This is a great succinct reminder of our mission which causes us to get together to that end.
When you come together-Part 1
When you come together-part 2
Intimacy with God-Neil Gamble
Recommended Books
These are some of the books which people in our community have read and found valuable in their journey. No doubt you have questions and a still small voice which will lead you to potentially pick one of these books up.  As you do, may the Spirit of Jesus continue to draw you deeper into himself, transform you and in turn, those around you.
Suddenly by Peter Steicke
This book is an intriguing set of narratives chronicling Peter's journey deeper into the incredible love of the heavenly Father. Excellent life-related teaching expands on the stories in a way all readers will be able to connect with and apply to their lives. Through the stories and the teaching, you will learn what it is to live out of the fullness of God's Father-heart, and develop a redeemed perspective on life—one that frees you to be a source of life to others.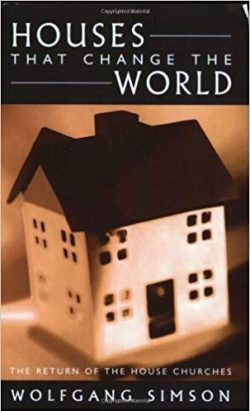 Houses that Change the World by Wolfgang Simson
Millions of Christians around the world are becoming aware of an imminent reformation of global proportions within the church. God is changing this revered institution and is making a new collective awareness of an age-old revelation, a corporate spiritual echo that reflects God's desire for the church. In this book, Simson brings to light what God is saying to Christians everywhere. Researched across the globe, he presents the case for the reformation of the church's existence. In a world where the church is being ignored, it is time to bring the church to the people and not the people to the church. Whether it is what we know as church from the last five years or the last five hundred years, no one has truly been able to break free from the structures of the past. Many may see this book as radical, many may see it as a reforming of old ideals but all who read it will be challenged and their priorities refocused in a life-changing way..
So you don't want to go to church anymore by Wayne Jacobson
What would you do if you met someone you thought just might be one of Jesus' original disciples still living in the 21st Century? That s Jake s dilemma as he meets a man who talks of Jesus as if he had known him personally. This is Jake s compelling journal that chronicles thirteen conversations with his newfound friend over a four-year period and how those exchanges turn Jake s world upside-down. With his help, Jake faces his darkest fears, struggles through brutal circumstances and comes out on the other side in the joy and freedom he always dreamed was possible.
Pagan Christianity by Frank Viola & George Bana
Have you ever wondered why we Christians do what we do for church every Sunday morning? Why do we "dress up" for church? Why does the pastor preach a sermon each week? Why do we have pews, steeples, and choirs? This ground-breaking book, now in affordable softcover, makes an unsettling proposal: most of what Christians do in present-day churches is rooted, not in the New Testament, but in pagan culture and rituals developed long after the death of the apostles. Coauthors Frank Viola and George Barna support their thesis with compelling historical evidence and extensive footnotes that document the origins of modern Christian church practices..
Waking the Dead by John Eldredge
Wild at Heart helped men get their hearts back.
Waking the Dead will help us all find the life Christ promised.
Jesus said, "I have come that they may have life, and have it to the full." That's the offer of Christianity, from God himself.
Just look at what happens when people are touched by Jesus—the blind see, the lame walk, the deaf hear, the dead are raised to life. In other words, to be touched by God is to be restored. To become all God meant you to be. That is what Christianity is supposed to do for you—make you whole, set you free, bring you fully alive.
Crazy Love by Francis Chan
God is love. Crazy, relentless, all-powerful love. Have you ever wondered if we're missing it?
It's crazy, if you think about it. The God of the universe?the Creator of nitrogen and pine needles, galaxies and E-minor?loves us with a radical, unconditional, self-sacrificing love. And what is our typical response? We go to church, sing songs, and try not to cuss. Whether you've verbalized it yet or not, we all know something's wrong.
We have two options.
We can trudge through on our own, doing our best to figure it all out. Or, we can walk with God – as in, learn to hear his voice. Really. He offers to speak to us and guide us. Every day. It is an incredible offer. To accept that offer is to enter into an adventure filled with joy and risk, transformation and breakthrough. And more clarity than we ever thought possible.